As any good Burlington real estate agent will tell you, most home buyers form a first impression of a house before they even step foot inside the front door. This makes it crucial for sellers to invest some time and energy into the front exterior portion of their property if they want to attract their ideal buyers and sell their homes for top dollar. If you plan to sell your house in the upcoming months, learning more about easy ways to boost your curb appeal is one way to up your chances of selling success. Of course, working with an experienced real estate agent is always the number one way to ensure your home sells quickly and for the amount you want, but having great curb appeal will make the selling process easier for both you and your agent. Consider these easy steps to create a curb appeal that wows.
1. Add some exterior lighting
Not only do exterior lights add to the safety of your property, they can also highlight architectural features, create visual interest, and increase the amount of time owners can spend on their front porches or patios. Homes for sale in Burlington NJ that have adequate outdoor lighting will be instantly more appealing to buyers, especially if they drive by at night. Consider
lining the drive or walkways with rope lighting
, adding some motion-sensing lights to the front or garage areas, and adding spotlights to direct focus to trees, shrubs, or other highlights of your front yard. The national average cost of installing outdoor lighting is
anywhere from $2,000 to $4,500
, so it's not one of the least expensive projects on this list. However, it's well worth the investment for most sellers.
2. Paint the front door
The front doors of homes for sale in Burlington NJ are a natural focal point for buyers. If yours is looking worn or faded, it can immediately diminish your home's overall curb appeal. Painting the front door can give your entire house a new look. This is one area where experts suggest throwing the tried-and-true neutral paint palette out the window and opting for bold colors like red or blue. If your door is outdated or in poor condition, it may pay to replace it altogether. A new steel door will set you back an average of $2,000, but you can plan to
recoup about 75% of that cost
when you sell.
3. Add some flower pots
Some flowerbeds with beautiful, colorful plants and flowers adds to the overall visual appeal of a home. However, if you don't have a green thumb—or much time on your hands—planting the right flowers and plants can be overwhelming. You can experience some of the same benefits by placing flower pots on your front step, along your walkway, or by your front door. Not sure which flowers to choose? Some of the
best choices for containers
include violas, zinnias, dianthus, ornamental peppers, and Very Berry creeping wintergreen.
4. Update your house numbers
When prospective buyers are looking at homes for sale in Burlington NJ, one of the first things they will glance at is the numbers on the front of the home to verify they've arrived at the right location. If your house numbers are old or outdated, it can create an immediate bad impression. Make sure your numbers stand out in a good way by replacing them with new metal or wood versions. Really want to make a splash?
Try one of the new trends
like a house number plaque with a planter, an address plaque with magnetic numbers, or black acrylic floating house numbers.
5. Tidy and trim your lawn and shrubs
It should go without saying that a key part of your curb appeal is your lawn. Homes for sale in Burlington NJ need to have a lawn that is green, trimmed, and tidy. Bushes, trees, and other shrubs should also be neatly trimmed. If you're selling during the winter months, you likely won't have to worry about mowing the lawn. Instead, put your focus on keeping walks and driveways clear of snow and ice and add some greenery with potted evergreen plants.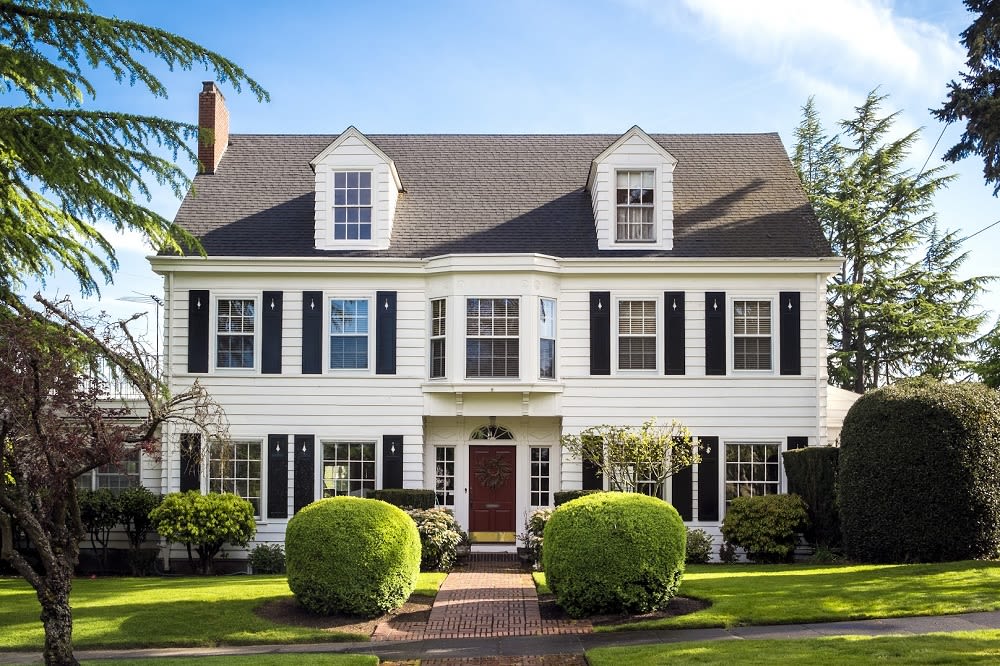 6. Install a new mailbox
If you have a mailbox at the end of your drive or mounted by your front door, you can give your curb appeal a quick and inexpensive boost by replacing it. Follow the regulations when it comes to purchasing the right size of mailboxes and go for one that is stylish and fits the feel of your home.
7. Paint trim and shutters
Painting the entire exterior of homes for sale in Burlington NJ only returns around
50% of the investment
and this project is time-consuming and expensive. On the other hand, doing some paint touch-ups can actually boost the value of your home by 2-5%. In addition to touching up faded or peeling spots on your fence and porch railings, consider painting your trim or shutters in a bright color that complements the rest of your home. The
average cost to paint a shutter is only $60
and most homeowners are able to complete the project on their own.
8. Put on some finishing touches
Make your front entryway as appealing as possible with a cheerful welcome mat, a seasonal wreath on the front door, and a quality set of patio furniture or a nice front porch swing. You can also upgrade your front porch light and replace the hardware on your door.
Are you ready to put some time into your curb appeal so you can make it as appealing as possible to your ideal buyers? By choosing some simple but impactful projects, you can ensure your home makes the right first impression. Ready to list your home for sale? Reach out to trusted Burlington real estate agent
Terry Grayson
for expert guidance throughout the entire process.